white GALLOWAY SIRES
ck Yukon 25y
Reg# 236709-B | BD: May 2, 2011
May be the most complete White Galloway bull in North America, we are very excited to own him and look forward to many calf crops in the future.

Semen is exportable, and sold thru Semex.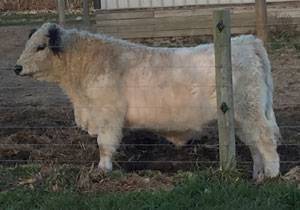 B&J Arctic Blue
Reg# 237788 | BD: January 28, 2016
Arctic Blue is one of the best young bulls I've seen in any breed, and we're very excited to add him to the B&J Galloway lineup!!