Show Results
B&J Miss Sugarbaker 10Y
Big E Jr Grand Champion Heifer 2012
Anderson Hill Faylee
Reserve National Champion
Junior Show National Champion
2 Times Big E Junior Show Grand Champion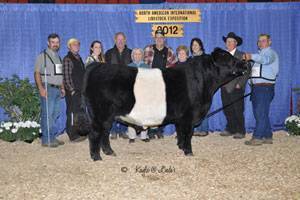 Driftwood Sonic
2012 Reserve National Champion
Belted Galloway Bull
Co-owned with Driftwood Plantation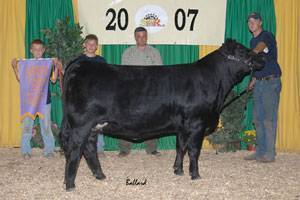 B&J Ms Touch of Gold 601S
Reserve GRAND CHAMPION 2007 Ohio State Fair
Bred by "B&J Cattle Co." and
Top selling open heifer in the Blue Ribbon Classic 2006
Shown by Lazy H Farms, Randy Henthorn & Family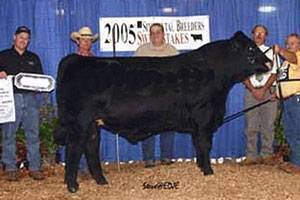 CCRC Shanghai 4064P
Reserve Grand Champion
2005 Simmental Breeders Sweepstakes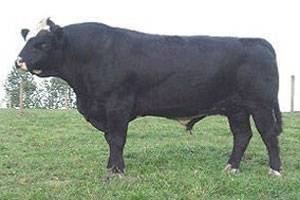 B & J Thunderstruck 21E
We have been very fortunate to have raised and used B & J Thunderstruck 21E, a division National Champion who has demonstrated not only his ability to show, but to also sire Champions at all levels.
Cow/Calf National Champion
A Thunderstruck daughter from our Snoopy cow family that won the Cow-Calf Championship at the 2002 Simmental Jr. National held in Bowling Green, KY.
B&J Black Beulah
A Thunderstruck daughter also from the Snoopy cow family that was a San Antonio Heifer Champion.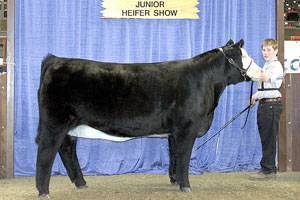 Champion Thunderstruck daughter from the Snoopy cow family, shown as the lead heifer for the Steele family showstring.
JLF Mr. Bojangles
A Thunderstruck son from the Snoopy cow family, bred by the Fraesiers in Floresville, Texas.
Heifer calf from the Sweepstakes Champion Cow-Calf, sired by B&J Crown Royal, exhibited by the Rivers Edge Cattle Co.
B&J Top Fuel F16
Our bred and raised Champion out of Meyer 206Y, co-owned with Kelly Hope and family, Patoka, Indiana.